Why we love energy efficient tankless water heaters
Most new homes are getting tankless water heaters because of the high efficiency, but they can be sized to give a continuous supply of hot water without ever running out. The energy efficiency is a plus for everyone and the endless supply is a plus for homes with large tubs, multiple shower heads or families that don't want to wait in between showersModels are also available with a built in recirculating pump that gets the hot water to where you need it faster.
An energy star rated condensing full house gas tankless water heater starts around $2200 out the door up to $4500 on the higher end. For standard installs pricing can be given over the phone by answering a few questions- call: 743-9821 They can be sized from a single bath home up to 3 bathrooms per water heater. Multiple tankless water heaters can be linked together for a high efficiency endless supply for larger homes, offices, schools. Recirculation options are available for houses with no dedicated recirculating hot water line, or many times an insulated recirculating line can be added for best performance. An aqua-stat that senses water temperature, and a remote controller can be used to make sure hot water is closer to your faucets when you need it. A pushbutton or an app with wifi connection to the water heater can also be used to turn on the recirculating pump.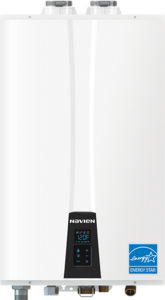 Lid est laborum dolo rumes fugats untras. Etha rums ser quidem rerum facilis dolores nemis onis fugats vitaes nemo minima rerums unsers sadips amets sadips ips. Ut enim ad minim veniam, quis nostrud. Etha rums ser quidem nemo minima rerums.